DENNIS R. YOUNG – BIOGRAPHY
Updated March 15, 2018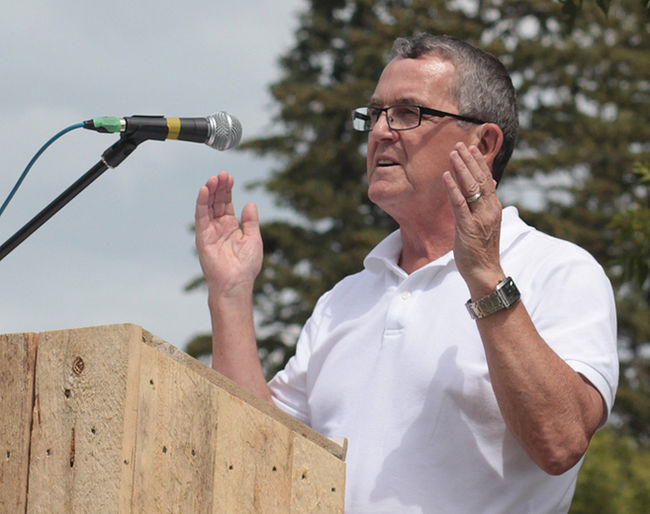 Dennis was born in 1947 and raised in the logging, mining and tourist town of Bancroft in eastern Ontario. Dennis hunted, fished, flew planes and drove Harley's while growing up. Dennis and Hazel were married in Saskatoon in 1969.  Our son, Steven was born in 1970 in Nipawin, Saskatchewan and is now a successful mechanical engineer living with his wife and our granddaughter in British Columbia.  Our daughter Jennifer was born in 1974 in Peterborough, Ontario and now lives with her husband, our granddaughter and grandson and works in Calgary, Alberta.
Dennis' previous work history includes:
Five years in the RCMP in seven detachments in the Province of Saskatchewan: Smeaton, Buffalo Narrows, La Loche, Ile a la Crosse, Nipawin, Creighton, and Rosthern;
Seven years with the Unemployment Insurance Commission and the Canada Employment and Immigration Commission in Ontario; the last 4 years as Regional Manager of Employment Market Advisory Services with functional responsibility for 42 researchers;
Three years as owner and operator of his two businesses – a restaurant and a sports shop in his hometown of Bancroft, Ontario;
Three years working in a copper mine in Stewart, BC. One and a half years underground and one and a half years in industrial relations and personnel. As Personnel Supervisor, Dennis had the experience of laying off 380 workers and himself when the mine closed in 1984; and
Two years as an Economic Development Officer and General Manager of the Northwest Manitoba Development Corporation in Lynn Lake, Manitoba, a mining town going through the crisis of closure.
Dennis helped to establish the Canadian Association of Single Industry Towns in 1985 becoming its Founding President and also acted as Executive Director for the Association until 1991. Dennis travelled extensively throughout Canada and made over forty presentations on the issue of single industry towns and resource dependent communities. Dennis has also worked in more than a dozen single industry towns that have had to face the crisis of closure. He was profiled on CBC Venture, CBC Countryside, CBC News World, STV's The Winner's Edge and interviewed three times on CBC Morningside host Peter Gzowski.
After his wife was diagnosed with primary progressive multiple sclerosis in 1985, Dennis moved his consulting
company, Problem Solvers Consulting Group Inc., from Manitoba to Saskatoon. Problem Solvers specialized in native economic development, community economic development, entrepreneurship training and strategic planning. Dennis was an active member of the Saskatoon Chamber of Commerce and the Canadian Federation of Independent Business. Dennis was also very involved as a volunteer for the Multiple Sclerosis Society of Canada at both the provincial and local level.
Dennis won a $5,000 prize in The Fraser Institute's 1992 Economy in Government contest for his proposal to privatize the government's unemployment insurance program by turning it into a voluntary Registered Unemployment Savings Plan.
Dennis joined the Reform Party of Canada in 1988 first serving as a volunteer organizer in Saskatoon and then between 1991 and 1993 worked under contract as the party's Regional Co-ordinator in Saskatchewan and Manitoba helping 28 constituency associations get organized. Following the 1993 election, Dennis accepted an offer from Garry Breitkreuz, MP for Yorkton-Melville in Saskatchewan to work as Parliamentary Assistant in Garry's Ottawa office.
During Dennis' 13 years working in the House of Commons, Garry was re-elected four times, with over 50% of the vote each time. Backed by Dennis' research Garry made a name for himself as a defender of gun owners' rights, property rights and the rights of the unborn.
Since retiring to Airdrie, Alberta in 2007, Dennis has worked as an independent researcher on firearms related issues and in 2015 started his own website www.dennisryoung.ca.  Dennis is an Honourary Life Member of both the Canadian Shooting Sports Association(CSSA) and the National Firearms Association (NFA).  Dennis is also a member of the Calgary RCMP Veterans Association. Dennis is a survivor of colorectal cancer and is Hazel's primary caregiver.  Whatever free time he has are spent hunting, fishing, running, biking, rollerblading and golfing. Dennis had a minor heart attack while playing hockey in November 2015. In December 2016, Dennis suffered a serious hamstring tear again while chasing a puck into the corner and then announced his retirement after 65 years of playing hockey. Oldtimer hockey players are like politicians, never say never. It took 15 months for his hamstring to fully heal and Dennis went back to play with his friends with the Optimist 55+ Hockey Teams.
RECOGNITION FOR DENNIS YOUNG'S RESEARCH EFFORTS
TEAM CSSA E-NEWS | AUGUST 16, 2019
https://cssa-cila.org/2019/08/team-cssa-e-news-august-16-2019/
EXCERPT: (Was it just us, or did everyone notice Toronto Police Chief Mark Saunders saying 80% of the crime guns in Toronto were smuggled into Canada? The exact numbers uncovered by stalwart firearms researcher Dennis Young and published in these pages many months ago.)
CALIBRE MAGAZINE https://calibremag.ca/ VOLUME 7 ISSUE 4
ELECTION 2019: PART 2 – PAGE 22
EXCERPT: Documents like these courtesy of the incredible advocate Dennis Young…
CANADIAN DENNIS YOUNG IS A DRIVING FORCE FOR FAIR FIREARMS LAWS
CSSA COMMENTARY – Posted on March 17, 2014 by Ammoland
https://www.ammoland.com/2014/03/canadian-dennis-young-is-a-driving-force-for-fair-firearms-laws/
AWARDS
1. The National Firearms Association's Dave Tomlinson Memorial Award to Dennis Young for his many years of dedicated service to the recreational firearms community – May 24, 2014.
2. The Canadian Shooting Sports Association's 2014 John Holdstock Memorial Award to Dennis Young for Outstanding Contributions to Canada's Firearms Community
3. The Canadian Firearms Advisory Committee to Dennis Young for His Valiant Effort Toward Freedom for All Canadians – 2007
4. The Responsible Firearms Owners of Alberta Award of Appreciation to Dennis Young. This award is presented to you with special appreciation for all the work you do in defence of law-abiding firearms owners and users. Your dedication and service truly supports our collective resolve to preserve these cornerstones of freedom for all Canadians – August 2000
5. The British Columbia Wildlife Federation to Dennis Young with deep appreciation for your dedication and tenacity in fighting for fair and honest firearm legislation in Canada – April 2000 AGM.
6. The National Firearms Association's Certificate of Appreciation to Dennis Young for dedication and persistence in protecting the rights of Canada's Firearms Owners – Presented November 27, 1999 in Maple Creek, Saskatchewan.
7. The FED-UP II RALLY – Presented to Dennis Young for outstanding service to the firearms community – Ottawa, September 22, 1998.